Miracle Number: M148
Rarity: Gold
Focus: Attack
Effect: All Doubling
Strength
: 5200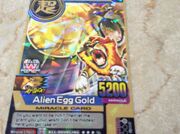 Link: Speed
Description:Do you want to be rich? Then let me grant your wish! Don't be modest,here you go! Take it!
Trivia:
Alien Egg Gold is the strongest miracle card in Animal KaiserAll Doubling guarantees your chances of a Doubling Effect 
Alien Egg Gold has a 3-Star=100% of a Doubling Chance!
Ad blocker interference detected!
Wikia is a free-to-use site that makes money from advertising. We have a modified experience for viewers using ad blockers

Wikia is not accessible if you've made further modifications. Remove the custom ad blocker rule(s) and the page will load as expected.