Konsuke is one of Zangetsu's four young ninja apprentices. With his swift movements and sharp intellect, Konsuke will master the ninja arts and earn his scarf of full mastery in no time!
Animal Number: A137

Rarity: Silver
Strength: 6500
Health: 5500
Nickname: Ninja Red Fox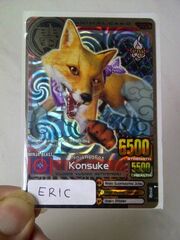 Scientific Name: Vulpes Vulpes Schrencki
Data: Length: 80cm Weight: 6kg
Food: Noodles
Miracle Link: Speed
Ability: Henge
Affiliation: Ninja Beast
Description: This young ace is training at the Ninja Village and can dodge enemies as swift as the wild
Attacks:
Guts: Ninpo Sugatadorino Jutsu
Tech: Higi Roller Henge (Specialty Move)
Power: Inari Pilder
Trivia:
The ability "Henge" allows Konsuke to transform into other animals
When Konsuke performs the skill "Higi Roller Henge", he will transform into a road roller rather than an animal
Ad blocker interference detected!
Wikia is a free-to-use site that makes money from advertising. We have a modified experience for viewers using ad blockers

Wikia is not accessible if you've made further modifications. Remove the custom ad blocker rule(s) and the page will load as expected.