Animal Number: A152
Rarity: Silver
Strength: 6000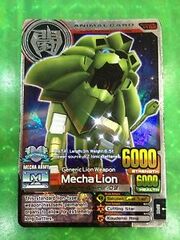 Health: 6000
Nickname: Generic Lion Weapon
Scientific Name: Machine-Animal 09
Data: Length: 3m Weight: 6.5t
Food: RZ Ionic Batteries
Miracle Link: Multi
Ability: Iron Heart
Affiliation: Mecha Army
Description: This standard lion-type weapon has semi-permanent organs to allow for extremely long battles
Attacks:
Guts: Sakusen Code "Leo" (Specialty Move)
Tech: Cutting Star
Power: Koudensi Ring
Trivia:
The ability "Iron Heart" allows the animal to become immune to the abilities "Poison", "Curse" and "Vampire". The user, however, will still take normal damage
Mecha Lion is able to go through the "Machine Boost" change, giving it a similar look to Mecha Lion-Elite
Mecha Lion weighs half a tonne more than Mecha Lion-Elite
Like the other Mecha animals, Mecha Lion only has one visible blue eye
Mecha Lion is one of the many collectible figures sold in Japan
Ad blocker interference detected!
Wikia is a free-to-use site that makes money from advertising. We have a modified experience for viewers using ad blockers

Wikia is not accessible if you've made further modifications. Remove the custom ad blocker rule(s) and the page will load as expected.