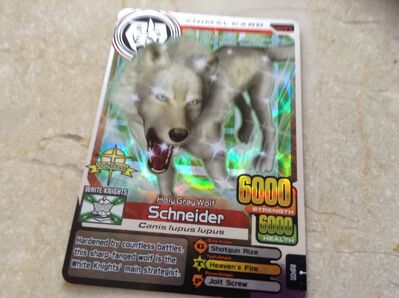 The brains of the White Knights. He used to train in the deep forests of Germany. The combat techniques he learned in his various battles are a sight to behold. He and Schwarz of the Dark Force are old friends, and they have been rivals since they were young
Animal Number: A071
Rarity: Silver
Strength: 6000
Health: 6000
Nickname: Holy Gray Wolf
Scientific Name: Canis Lupus Lupus
Data: Length: Weight:
Food:
Miracle Link: Multi
Ability: Holy Burst
Affiliation: White Knights
Description: Hardened by countless battles, this sharp-fanged wolf is the White Knights main strategist
Attacks:
Guts: Shotgun Rize
Tech: Heaven's Fire (Specialty Move)
Power: Jolt Screw
Trivia:
The ability "Holy Burst" raises the levels of Guts, Tech and Power to 5. Holy Burst will activate when the animal is low on health
His "Heaven's Fire" is the same attack as Admiral Eraser's Cosmo Driver
Ad blocker interference detected!
Wikia is a free-to-use site that makes money from advertising. We have a modified experience for viewers using ad blockers

Wikia is not accessible if you've made further modifications. Remove the custom ad blocker rule(s) and the page will load as expected.