We are the "Villain Beasts", the baddest of the bad. We won't let you become more famous than us, Armageddon Emperor. Sorry, but your days are over!
Animal Number: A163

Rarity: Silver
Strength: 6000
Health: 6000
Nickname
: Escaped Mastermind (A.K.A Ruthless Agent)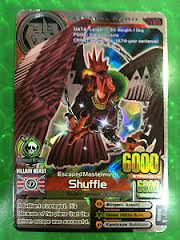 Scientific Name: Vulture Gryphus
Data: Length: Weight:
Food:
Crime: Spying, etc. (674-year sentence)
Miracle Link: Speed
Ability: Summon Wraith,
Affiliation: Villain Beast
Description: A brilliant strategist. Its because of his plans that the prison escape was successful
Attacks:
Guts: Wingeru Arashi
Tech: Ooiwa Gottu Burn (Specialty Move)
Power: Kamikaze Bukkomi
Trivia:
The ability "Summon Wraith" allows Shuffle to resurrect
Shuffle, along with the other members of the Villain Beast gang, escaped the Animal Prison with the help of Brutus
Out of the five Villain Beasts, Shuffle's sentence is the second longest
Ad blocker interference detected!
Wikia is a free-to-use site that makes money from advertising. We have a modified experience for viewers using ad blockers

Wikia is not accessible if you've made further modifications. Remove the custom ad blocker rule(s) and the page will load as expected.